On Saturday 30th December 2017, the Dynafit Skimo Scotland race season kicked off at the Lecht 2090 ski centre. This is the start of our 6th race season in Scotland and the conditions were without doubt the best that we have seen at the Lecht.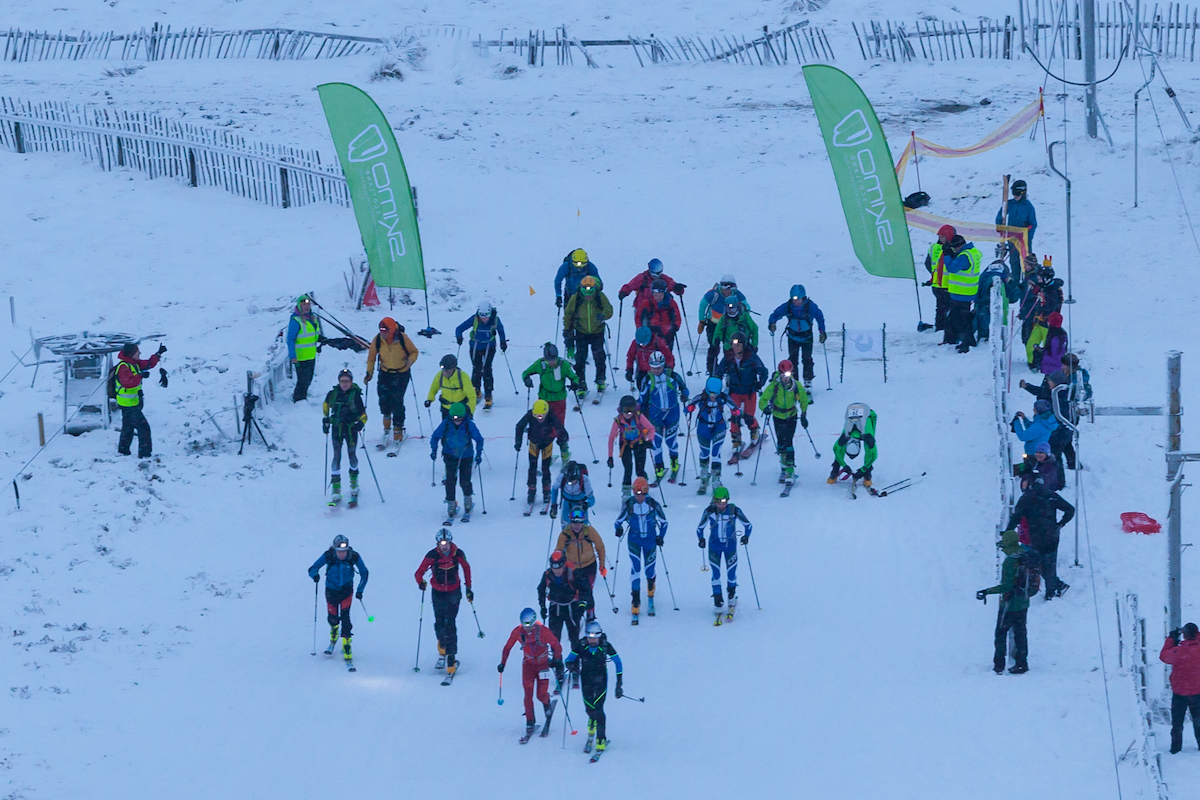 The snow build up prior to race day had not been idea but a determined Skimo Scotland team and the ever extremely accommodating staff at the Lecht managed to push and shovel snow in all the right places. This allowed us to set a complete course with no heather running involved. With a complete course, there were also minimal transitions - one at the top of the skin into downhill mode; one at the bottom of the descent into a boot section and one to transition back into skinning mode. As always, racers had 90 minutes to complete as many complete laps as possible.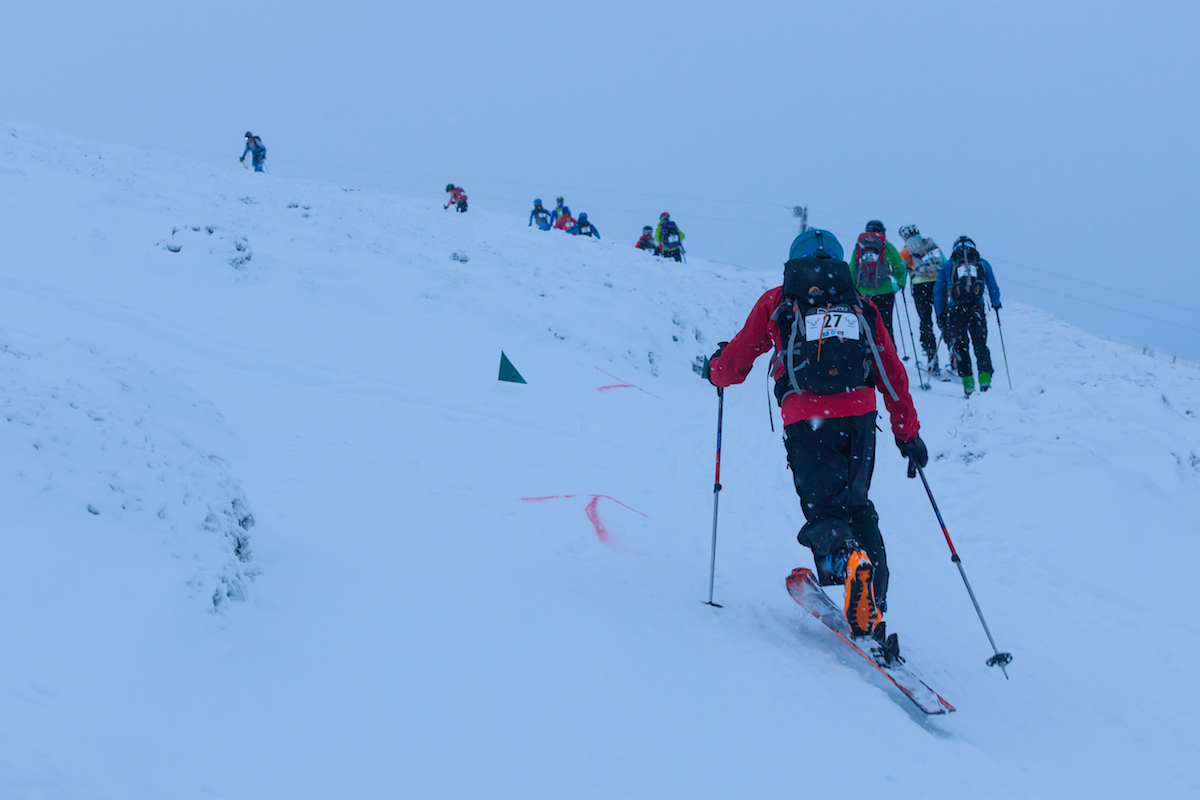 When we closed entries there were 34 racers on the Starting List, including last years series winner Andy Bryce, but a couple of very last minute entries including Finlay Wild, was sure to push the race pace. In the end 36 were on the Starting List with 30 standing on the line on race day. There were many new faces this season including some big names from the fell running scene including Donald and Rachael Campbell, so podium places were certainly not guaranteed. In the male category, Finlay Wild did indeed dominate the race with 6 complete laps in the allocated time with Andy Bryce taking a very solid second place. It was a tough battle for 3rd place with lots of racers battling it out but despite an appalling start (kicked off his skin) Malcolm Rudge had one of his best races to take third place. Only 9 seconds separated Scott Robertson and Donald Campbell with both racers complaining about their lack of practice at transitions.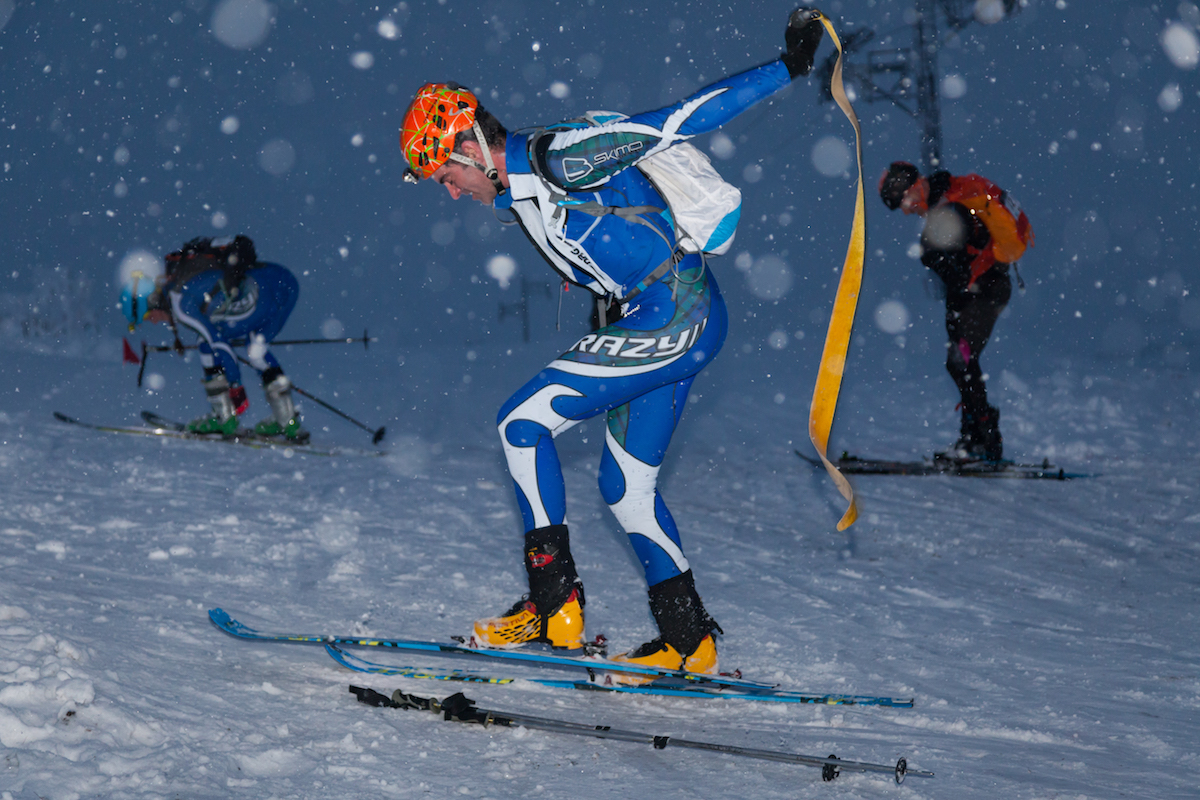 Graham Doig without question had the fastest descent times; Mark Thomasson raced on his telemark set up to complete 3 laps and young Calum Kitching had a great first race on equipment that was certainly older than him!

In the female category it was skimo regular Emma Holgate who stole the show completing 4 laps in 01:27:43 with newbie Rachael Campbell clipping her heels to complete 4 laps in 01:28:57 and secure second place. Rosanna Henstock secured her first podium of the series by taking third place.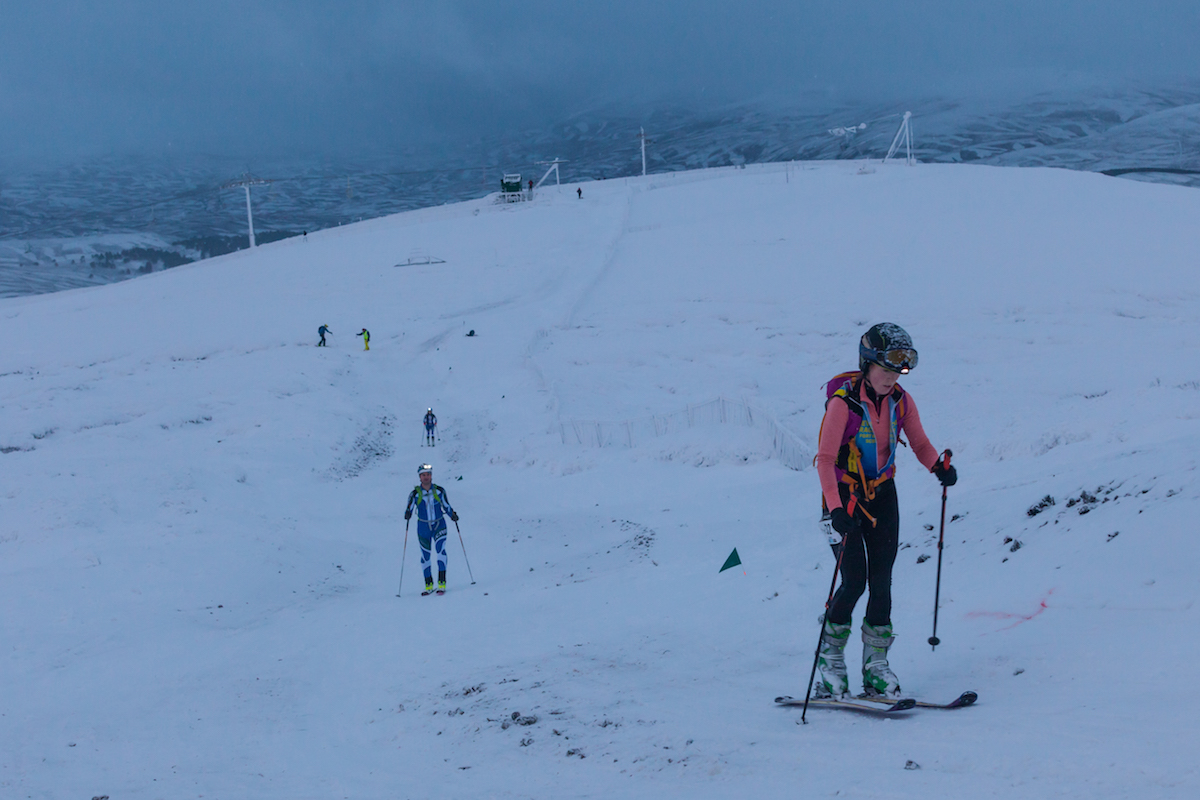 Full results can be seen here
.
Photos can be seen here
.
Huge thanks to Dynafit for providing some great give aways and to Wild West for providing some jerky for the winners.
The next race of the season will be the Braemar Mountain Sport Glenshee race, better known as the British Ski Mountaineering Championships. This will take place at Glenshee on Saturday 27th January 2017.
It certainly was not perfect blue bird days in knee deep powder, but on Saturday 18th and Sunday 19th March, we successfully managed to race on both days, salvaging what has been a pathetic Scottish winter ski season.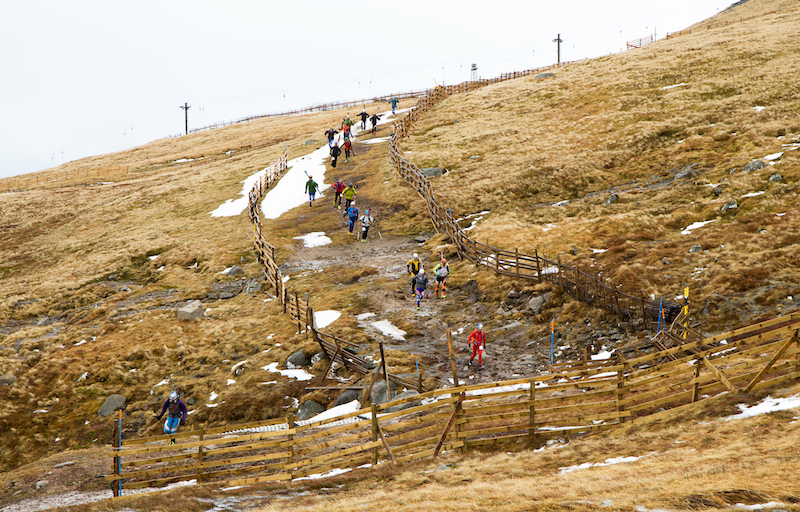 We made a very last minute decision to use the Julbo sponsored race at Nevis Range as the British Championships which were rescheduled for the following weekend. Due to the lack of snow and the unpredictable weather conditions we felt it was better to have a short course as opposed to no race. Despite the emphasis of heather in the photos, there was actually very limited running and the course was pushing over as much snow as possible.

We did not even consider racing over into the back corries this season for numerous reasons. Instead, an unconventional start to the race saw racers assembling at the top of the Alpha button. Once at the start line there was a 500m run to the Goose up track which saw racers skin to the summit plateau. A traverse around the corrie rim then took racers down an untracked Warrens run.
Three quarters of the descent, and just where the snow ceased to exist, saw the racers boot packing across the hill side back towards the Goose up track. Another skin back up saw them descent the Goose gully before one final short skin back to the top of the Quad Chair.
Finlay Wild came across the finish line for his 2nd win of the season, and retained his British Skimo Champion, with Andy Bryce taking 2nd and Neil Raitt closely behind. It was a delight to watch Mark Thomasson race, this is the first time that we have had a vet compete on Telemark equipment.
Gabriel Lees, with the 5th quickest time overall, won the Female category with Suzy Devey in 2nd and Emma Holgate coming in close behind in 3rd.
Full race timings can be seen here
and photos can be
seen here
.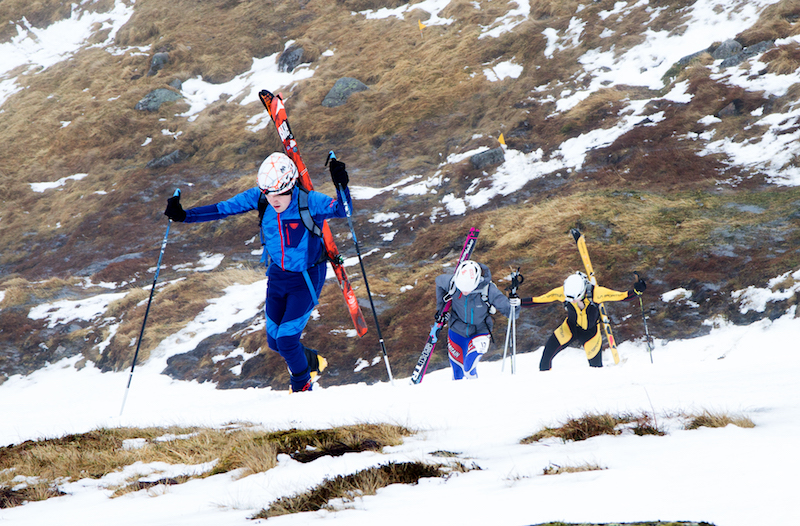 If we thought that the Weather Gods looked favourably on us on Saturday, they really did push us on Sunday. The gondola remained open as did the Goose T-bar but both Quad Chair and Summit button remained closed due to the wind which meant that marshals and photographers had to resort to human power to get themselves into position.

With a 3rd race on the horizon, we started to look closely at the results. Although Finlay Wild was ahead in the series, he was not on the Starting List for the Vertical which made him not eligible for series results. Andy Bryce was favourite with uncertainty between Tom Blankenstein and Malcolm Rudge for 2nd and 3rd. Only one point separated Steven Worsley and Roger Wild in our unofficial 'vet' category. In the Female category, unless Suzy Devey had a disastrous race she would be crowned this years series Female winner.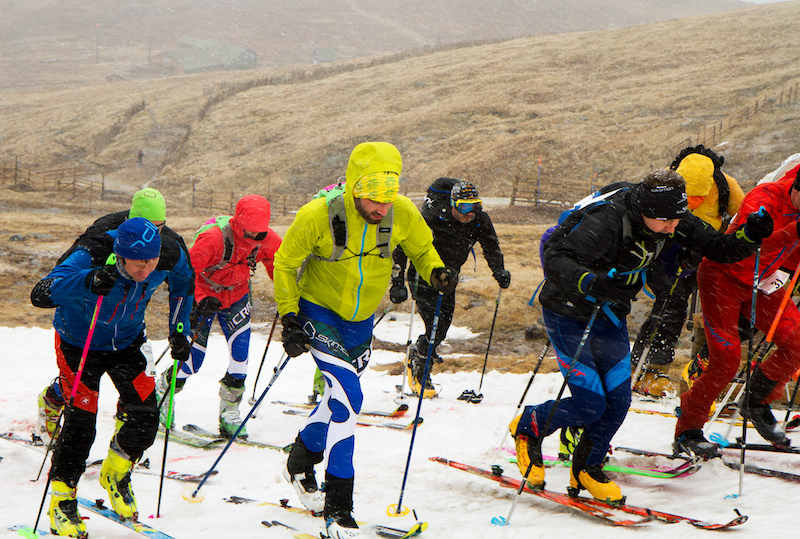 With the limited snow cover, racers made their way to the 2nd tower on the Goose up track for the race start and the finished which was on the summit plateau. Andy Bryce crossed the line first, securing a win but more importantly became our 2016/17 series winner. Tom Green crossed 2nd and Tom Blankenstein came in 3rd ahead of Julian Norton and Malcolm Rudge. With Tom's 3rd place, this secured him 2nd place in the series ranking with Malcolm taking the 3rd place on the podium. Steven Worsley came in ahead of Roger Wild which secured him his first win in the unofficial vet category.
Full race timings can be seen here
and race photos can be
seen here
.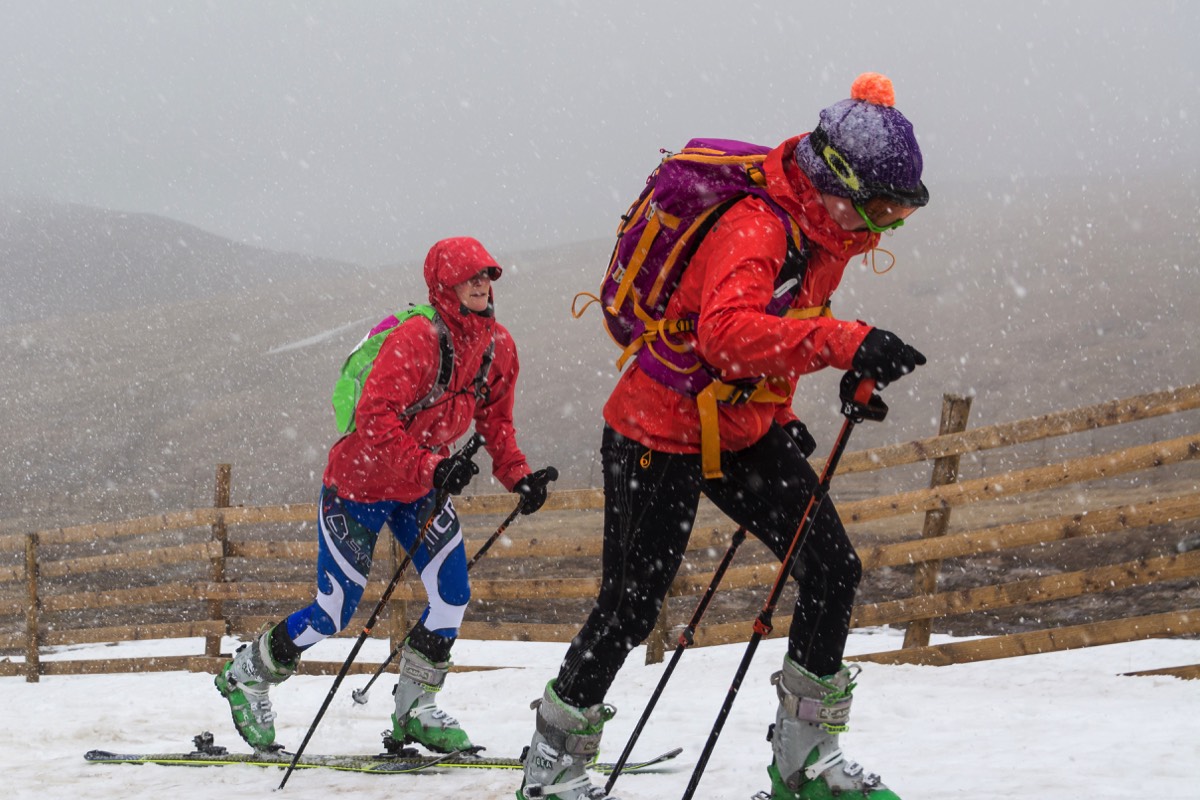 Suzy Devey came first in the female category securing the series win with Emma Holgate coming second and an injured, but determined Rosanna Henstock coming 3rd. These are the same places for the series rankings.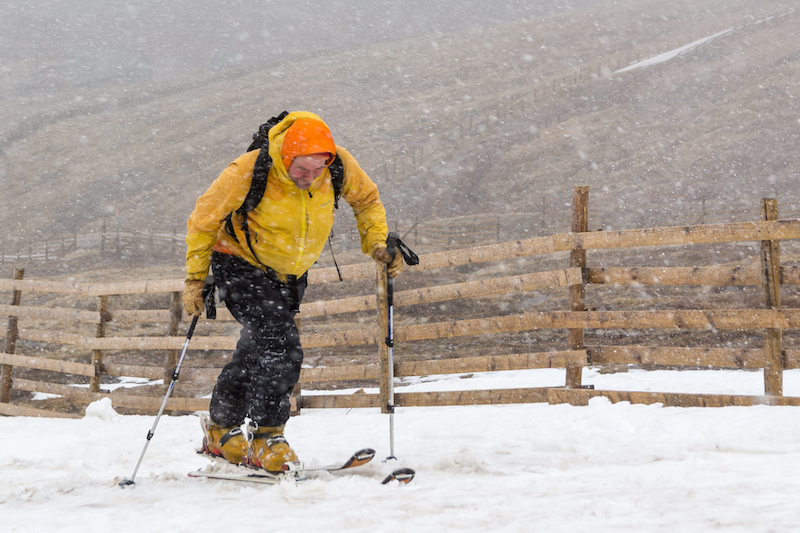 This has without doubt, been the most challenging Skimo Scotland series but we are simply delighted to have salvaged something out of the nothing. We don't look forward to skiing under ski tows but we didn't really have much option this year.

We are once again grateful to the resorts for being so understanding in our demands, our marshals and crew who go the extra mile, our sponsors for providing some absolutely amazing prizes and the people who make this happen. However, we are most grateful to the racers, who have trusted their faith into our decision making and followed us around this season. This is their race series and without them we would have no race series.

Signing off for the summer once again and will look forward to cheering you on next season.

The Skimo Scotland Team.


2016/17 SEASON KICKS OFF AGAINST ALL THE ODDS
Not quite sure how it happened, but against all the odds, on Saturday 28th December 2016 we did actually manage to kick the race season off.

From afar there looked to be zero snow at the Lecht and it was only the determined racers who put their faith in the Skimo Scotland team who committed to the journey. With 34 racers on the Starting List, 28 racers battled it out in both a mental and physical challenge.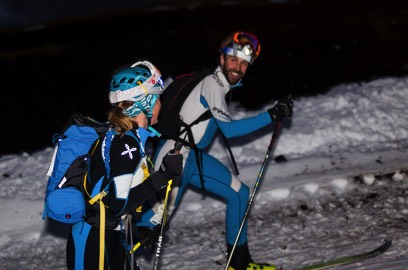 There was a change in course due to the conditions which saw racers skin from the bottom of the Kestrel to the top of the Falcon turnaround wheel in one continuous skin. The majority was on snow but it wouldn't be Scottish Skimo is there wasn't the obligatory heather and grass to ski over. From the top of the hill, one descent to the bottom followed by a run section back to the start. Racers had 90 minutes to complete as many laps as possible in the allocated time.

The unstoppable Finlay Wild dominated the Male category from the start horn but the real battle was taking place behind him. Andy Bryce, Tom Blankenstein, Malcolm Rudge, Alastair Brunton, Scott Robertson and Thomas Green were all neck and neck for the majority of the race with Andy Bryce slowly pulling away to bring him home in 2nd place. Seconds literally separated Malcolm Rudge and Tom Blankenstein with every lap despite equipment failures on both sides and it was only a desperate run from Malcolm on the last descent that kept Tom off the 3rd podium place.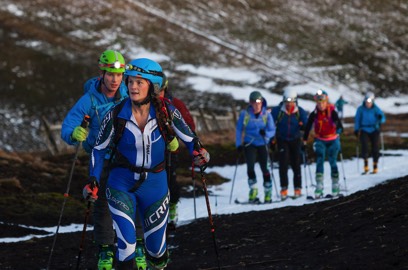 In the Female Category it was Fort William based Suzy Devey who dominated from the start with Emma Holgate, Christine Findlay, Emily Oates and Rosanna Henstock fighting it out amongst themselves for the other podium places. Emma Holgate managed to maintain the 2nd position with Christine Finlay finally loosing out to Emily Oates for 3rd place due to skin problems.

There was a general theme at this race with equipment failures. Nicholas Brown was in a good position when his ski broke after only 2 laps and numerous racers reported skins failing to work. There were broken bindings and broken poles. This is not an reflection on equipment but more a reflection on how hard these racers do actually push themselves and equipment to the max.
In our unofficial Veteran category, Ian Grimshaw, Graham Doig, Roger Wild and Steven Worsley all managed to complete 4 laps with only 6 minutes separating them all.
Full race results can be
found here
and photos can be
seen here
.
Massive thanks to Aviemore based Mountain Spirit for race prizes and our ever awesome series sponsors, Dynafit, Scarpa, Outdoor Research, Odlo and Black Crows.
The second race of the season is the British Championships to be held at Glenshee on Saturday 21st January 2017.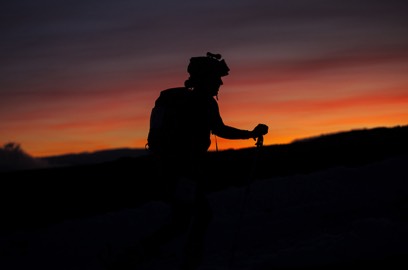 CAIRNGORM MOUNTAIN SPORTS NEVIS RANGE
On Saturday 19th March, 34 racers were signed up for the last race of the season, the Cairngorm Mountain Sports Nevis Range. This was to be, sadly, the last race of the season and conditions proved to be slightly more challenging than the previous weekend of racing. This is one of our biggest advertised courses, roughly 8km in distance with c.900m of ascent and descent.

The high ridge of pressure which had been dominating the Scottish weather for the previous week, slowly starting to show signs of weakness. Conditions on the mountain remained either perfect spring snow, heavy saturated snow or concrete depending on the cloud cover. What was skinned or skied once would be a completely different snowpack within 5 minutes of the cloud rolling in.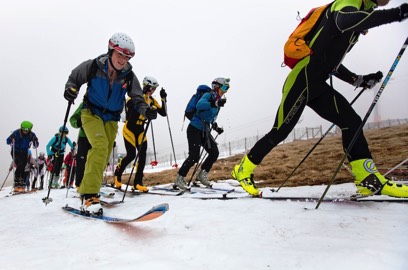 The course started at the bottom of the quad chair where racers skinned up a sliver of snow (with one boot pack section and a short heather section) to near the top of the chair. Racers were rewarded by literally climbing out of the cloud level to be greeted by blue skies and a cooking sun. However, having to descend back down into the cloud to the bottom of the goose saw some racers dropping too low before realising that they had done so. The skin up the goose can only be described as challenging, perhaps one of our toughest skins due to the completely unforgiving icy conditions, any weakness in technique or equipment were tested to the maximum.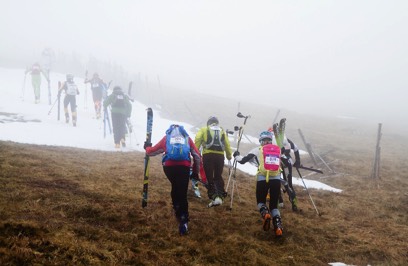 Once racers reached the top of the Summit Button, they descended down the switch run to the top of Wingers Wall. Depending on the time that racers entered the back corries, meant that they could easily see the descent or have to ski it blind; ski either perfect spring snow and hard packed ice. The route back to the finish line was supposed to be the normal ski return via Pin Ball Alley but how many racers actually took this line is anybody's guess. There were reports of skiers crossing rocky sections, dropping too low and having to fish scale back up hill. Once skiers located (it was very think cloud!) Rob Roy's Return, it was a fast descent back the finish area (over numerous heather sections just to add to the excitement).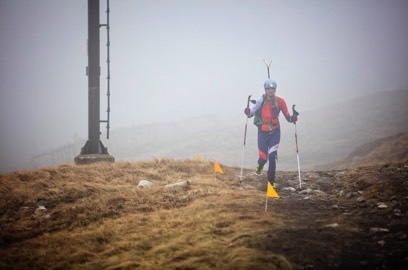 Bjorn Verduijn had the race of his life and secured his first win at any Skimo Scotland race, with Tom Blankenstein just behind. Our veteran racer, Neil Raitt proved that age is certainly no barrier by securing his first podium place this season in 3rd place.

Jozi MacKova not only dominated the female category but her time was the 4th fastest overall, proving that girls race hard. The friendly battle between Suzy Devey and Emma Holgate saw Suzy gain 2nd place and Emma 3rd.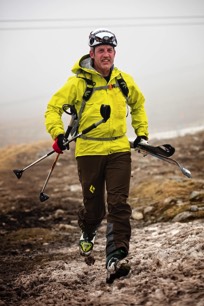 This race will hold many memories for racers, including 2 broken poles and runaway skis for some. Neil Raitt wins 1st place in the unofficial Veteran category with Pete Davies in 2nd and Roger Wild in 3rd. Susan Houstoun wins the Female class.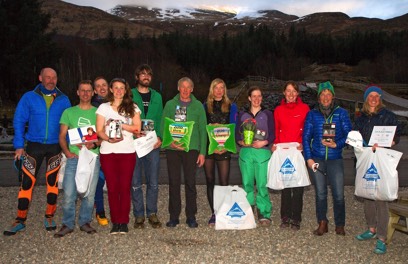 Being the last race of the season, Finlay Wild retains his crown as Skimo Scotland Champ for the series, with Ben Bardsley and Bjorn Verduijn both finishing in joint second place. Jozi MacKova becomes our Female Champ with Suzy Devey in 2nd place and Emma Holgate finishing in 3rd place. In the unofficial Veteran class, Neil Raitt wins with Roger Wild in 2nd and Martin Green in 3rd places. Susan Houstoun wins the unofficial female veteran class with Sue Savege coming in 3rd.

This season there have been 223 racers enter the 5 Skimo Scotland races. This season there were 9 racers who raced at all races, these were Bjorn Verduijn, Tom Blankenstein, Neil Raitt, Roger Wild, Roger Kemp, Suzy Devey, Rosanna Henstock, Susan Houstoun and Emily Oates. Every racer is special to us, but a special thanks to these individuals who get a 100% attendance mark. A special mention to Emily Oates, who having never raced previous to this season has fully embraced the Skimo scene - Emily, we expect big things from you next year.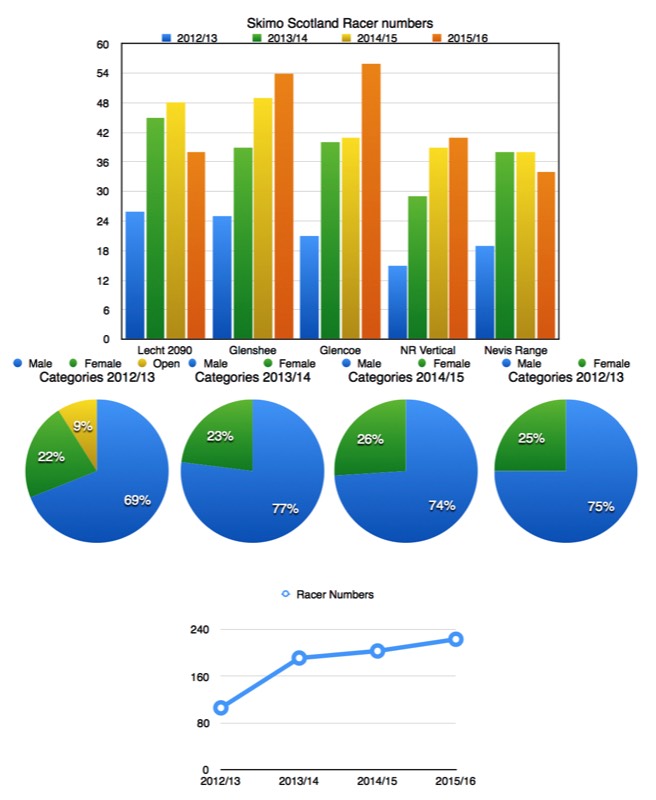 A massive thanks to our 5 race sponsors: Mountain Spirit, Braemar Mountain Sports, Mountain Hardwear, Macpac and Cairngorm Mountain Sports and our series sponsors: Outdoor Research, Scarpa, Odlo, Teko, Black Crows, BCA and Dynafit. A thanks to the resorts for letting us race and to our marshals and volunteers who have been amazing during the season.

As we sign out for the last time this season, we sincerely wish you an amazing summer and look forward to cheering you on next winter.

The Skimo Scotland Team


MOUNTAIN HARDWEAR GLENCOE & MACPAC NEVIS RANGE VERTICAL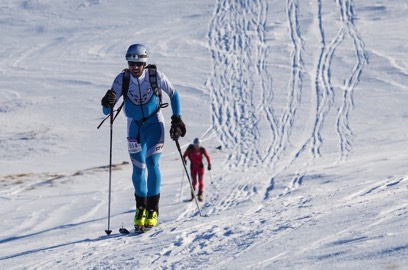 The weekend of 27th/28th February saw nearly 100 racers embrace Scottish ski mountaineering racing at it's best. For once, the conditions underfoot were near perfect, the temperatures remained down, the wind was practically non existent, there were blue skies above and ski goggles were replaced with sun glasses.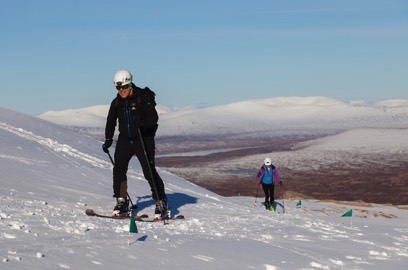 On Saturday, 56 racers had entered the Mountain Hardwear Glencoe race, with 40 Males and 16 Females racing. With the Great British Championships being cancelled earlier in the year due to race day conditions, it was agreed that this race would be used as the Championship race. Out of the 56 entrants, 52 were eligible for the Brits. The British Championships have been established for the past 4 years but this was the first time that it had taken part on British soil.

The course was slightly adjusted to accommodate the excellent conditions - roughly 6km with 850m ascent.


Racers started from the bottom of the access chairlift before being pushed out left and back to come in underneath the Eagles Rest Cafe. Continuing on skis, racers ascended to nearly the top of Creag Dubh where they transitioned into ski mode for a traverse/skate to the bottom of Etive Glades. A transition to skinning mode for the ascent of Etive Glades which included a boot pack section due to firm conditions underfoot, before racers reached the top of the Main Basin T Bar Tow. Descending the Fly Paper was not an option due to snow stability so the final descent took racers down the Spring Run before finishing near the top of the Access chairlift.

Finlay Wild secured his 3rd win of the series, becoming the GB Champion in the process being chased hard by both Ben Bardsley & Tim Gomersall. Andy Bryce & Bjorn Verduijn were separated by just 20 seconds to secure 4th & 5th place with Neil Raitt, Paul Cornforth, Tom Blankenstein, David Morton and Matt Reedy being within 36 seconds of each other.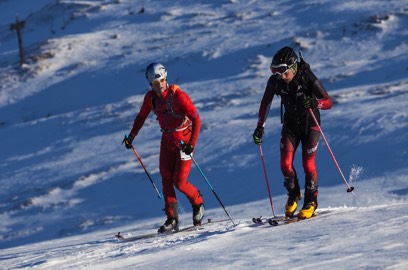 Amongst our lycra racers, we are always super excited to see racers fully committed to pushing themselves on conventional touring equipment - the unsung hero's of the Skimo racing scene.

In the Female category, it was Czech Jozi MacKova who dominated not only the race but the weekend. Jozi raced hard pushing both Gabriel Lees and Rosalind Martin into 2nd and 3rd place. Gabriel Lees regains her crown as British Champion first won back in 2013.

A special mention for both Mairi McLellan and Susie Mathews who despite the fact they had never ski toured prior to the race, embraced the race approach and successfully completed one of the harder Skimo Scotland courses.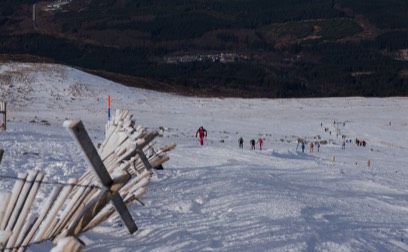 On Sunday, the excellent weather pulled some of the racers away from the Macpac Nevis Range Vertical but 33 racers stood on the starting line. Ben Bardsley secured his first win in the Skimo race series ahead of Dutch Bjorn Verduijn and NZ racer Matt Reedy. Anthony Robert's pipped Neil Raitt to win our unofficial Male Vet category, a reverse from the previous day.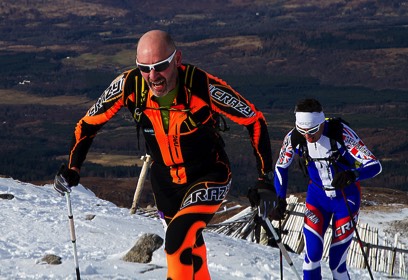 Jozi MacKova was pushed hard to win her second race of the weekend with Suzy Devey and Rosanna Henstock both back on the podium taking 2nd and 3rd places. Sue Savege won 1st place in the unofficial Female Vet category ahead of Susan Houstoun, once again a reverse from the previous day.

Our last race of the season will see us return to Nevis Range on Sunday 19th March.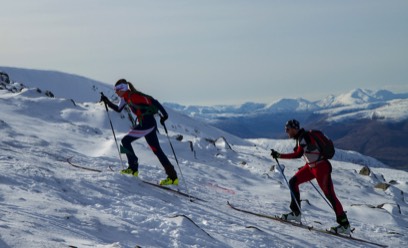 BRAEMAR MOUNTAIN SPORTS GLENSHEE
For the past few weeks, Scotland's mountains have been under a blanket of snow and in true Skimo fashion, the temperatures rocketed in time for the 2nd race of the season. Despite the depleting snowpack and an altered course - 4.43km with 371m ascent - 54 racers signed up for the Glenshee race, our biggest pack of racers in our short history.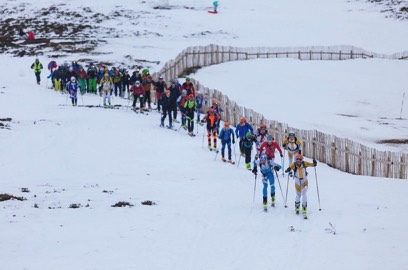 Our biggest group of racers to date © Mr Drew Photography
For the first time, we decided to introduce a 2 lap course. Racers had the option to race over 1 lap or 2, with the 2 lap course having a cut off time of 50 minutes for the first lap.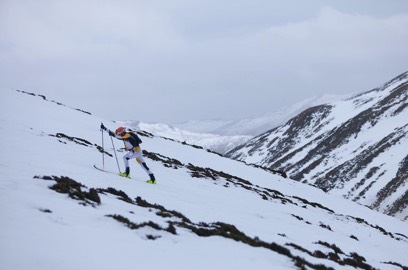 2015 British Camp Ben Bardsley chasing hard © Mr Drew Photography
In the 2 lap course, fighting off some stiff competition, Fort William based Finlay Wild continued his reign of the Skimo Scotland race series completing the course in 48:57. 2015 GB Champion Ben Bardsley fought hard to come in 2nd place in 52:49 with fellow GB Team member Jon Morgan taking 3rd place in 55:32. A new face to the Skimo Scotland scene was Tim Gomersall, who had a excellent race just missing out on the podium places taking 4th in 56:09. Our homegrown Skimo talent of Andy Bryce, Bjorn Verduijn, Neil Raitt & Scott Robertson created a very close chasing pack. Neil Raitt becomes the unofficial Male Vet winner ahead of Roger Wild.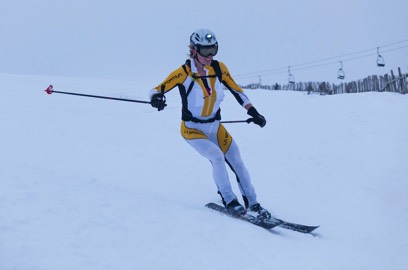 Tim Gomersall in his debut Skimo Scotland race © Mr Drew Photography
In the 2 lap course for the females, 2015 GB Champion Ursula Moore took 1st place in 1:02:54 with team mate, Gabriel Lees taking 2nd in 1:03:00. Czech racer Jozi MacKova, new to the Skimo Scotland series, took 3rd place in 1:08:00 pushing GB team member Rosalind Martin into 4th place. Off the lightweight racing equipment, Suvy Devey had a great race ahead of Emma Holgate (a ranking switch from the Lecht 2090 race). Susan Houstoun becomes the unofficial Female Vet winner ahead of Sue Savege.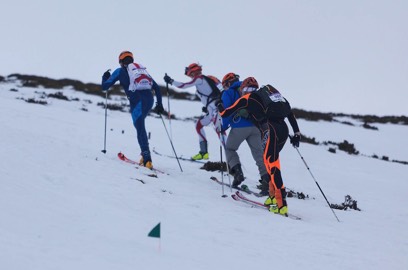 The chasing pack © Mr Drew Photography
In the 1 lap course, it was another new face to the Skimo Scotland race series, Tim Mueller who took 1st place in 38:32 with Calum Oates and Martin Green taking 2nd and 3rd place. Martin Green become the unofficial Male Vet winner ahead of Bob Elder and Roger Kemp. Emily Oates took 1st place in the female category in 43:37.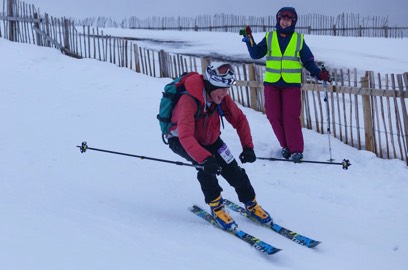 Roger Wild © Mr Drew Photography
Finlay Wild remains on top with the Series ranking, with Bjorn Verduijn and Andy Bryce behind. Emma Holgate remains on top in the female category with Suzy Devey closely behind. Ursula Moore takes 3rd place. Racers need to have raced in 3 races to to eligible for Series ranking.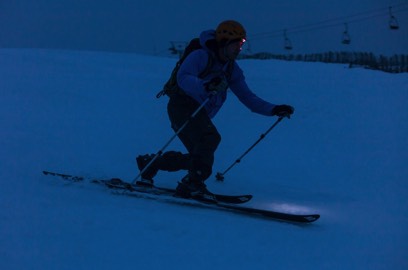 Euan Ballantyne racing on non conforming equipment © Mr Drew Photography
A massive thank you to members of Aberdeen Mountain Resuce Team for marshalling and to all our fabulous marshals both on and off the hill. Without you all, this race series would not be possible.

Focus will turn to a weekend of racing in February when we head West. Saturday 27th we will be racing at the Mountain Hardwear Glencoe Mountain race and Sunday 28th we will be racing a Vertical at the Macpac Nevis Range.


MOUNTAIN SPIRIT LECHT 2090
Despite the record breaking mild December and the lack of snow Skimo Scotland remained positive and gave the green light to the first race of the 2015/16 race series. With fresh snow on the forecast, the course remained in perfect condition with less than 24 hours to the start.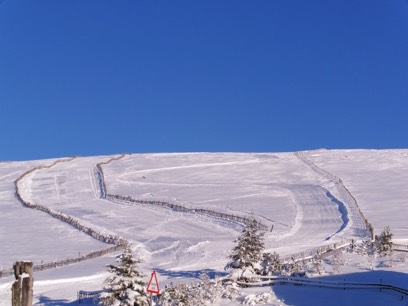 The ultimate skinning track - 27th December 2015 © Skimo Scotland
Fourteen hours before the race start the winds increased and the temperature soared. Despite skinning and marking the course in the morning of race day, the team then slowly watched the course literally melt before their very eyes. Not be be defeated, an alternative course was planned and once again was watched as it melted away. With the ski centre uplift remaining closed this fortunately allowed a third course to be found exploiting the hard grooming efforts the previous day.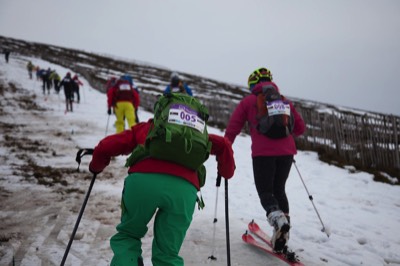 The rapidly melting uptrack © Mr Drew Photography
With 38 racers on the starting list a very brave 29 racers turned out on what can only be described as a very challenging course. A initial run through heather, mud and snow (later slush) saw the racers skin up the piste of the Buzzard run before a fairly short and entertaining descent. All racers had 90 minutes to complete as many laps as possible.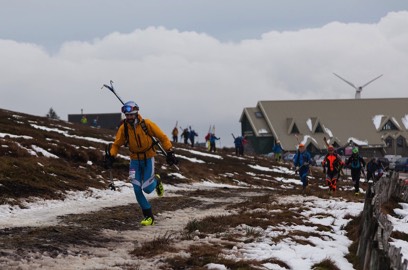 Finlay Wild doing what Finlay Wild does best © Mr Drew Photography
Finlay Wild dominated the Male class from the start completing an astonishing 12 laps in the allocated time with a fairly consistent 7 or 8 minute lap time for the entire 90 minutes. Bjorn Verduijn had an excellent race completing 9 laps just ahead of Tom Blankenstein. Andy Bryce and Neil Raitt completed 8 laps and Scott Robertson, known for being the Telemark King in Skimo, has ditched the telemark equipment and raced on lightweight equipment for the first time. Scott was denied his 8th lap by a mere 11 seconds.

Neil Raitt becomes the unofficial Male Vet winner with Ian Grimshaw and seasoned racer Martin Green picking up 2nd and 3rd places.


In the Female class it was Emma Holgate and Suvy Devey battling it out for 1st and 2nd place with Emma slowly creeping ahead as the race progressed. Seasoned racers Susan Houstoun and Rosanna Henstock remained neck and neck for the entire race with Susan winning by a mere 14 seconds. All these ladies completed 6 laps in the allocated time.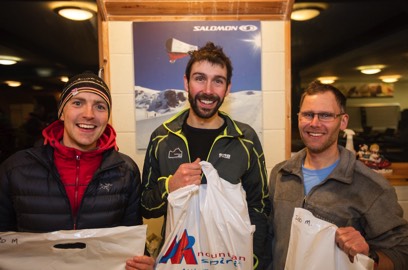 Tom Blankenstein (L), Finlay Wild (M), Bjorn Verduijn (R) © Mr Drew Photography
Susan Houstoun becomes the unofficial Female Vet winner with Sue Savege and Heather Morning picking up 2nd and 3rd places.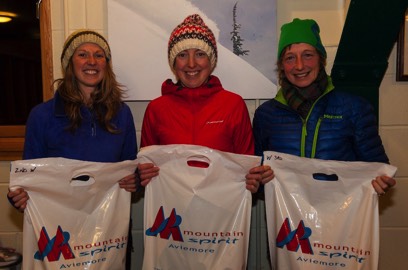 Suzy Devey (L), Emma Holgate (M), Susan Houstoun (R) © Mr Drew Photography
A huge thank you to everybody who made this race so memorable. Focus will now move to the second race of the season the Braemar Mountain Sports Glenshee race where racers have an option to complete a one lap course or a 2 lap course. This will take place on Saturday 23rd January.